New Lighting Installation
» Lighting 1
Overall view of the new lights. Two on each side of the entrance. The wiring was a little tricky crossing the front porch. I had to drill out the crack where the sidewalk meets the porch just enough to put the cable through.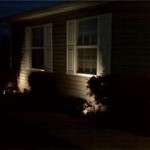 Tuesday, February 3rd, 2015 at 6:14 pm. You can leave a response, or trackback from your own site.
write your sentence her
Leave a Reply
You must be logged in to post a comment.